Attention A T users. To access the menus on this page please perform the following steps. 1. Please switch auto forms mode to off. 2. Hit enter to expand a main menu option (Health, Benefits, etc). 3. To enter and activate the submenu links, hit the down arrow. You will now be able to tab or arrow up or down through the submenu options to access/activate the submenu links.

VA Caregiver Support Program
Then, Now, and Forever: The Stories of Caregivers and the Veterans they Love
Army Veteran Tom Halberstadt is quiet and reserved. His wife, Pat, lights up a room when she walks in. In the final story of our four-part series, we're diving into the romance of this couple, whose love began 29 years ago. Here's what Pat had to say about her love for Tom, his favorite meal, and how the Caregiver Peer Support Mentoring Program supports Veterans' caregivers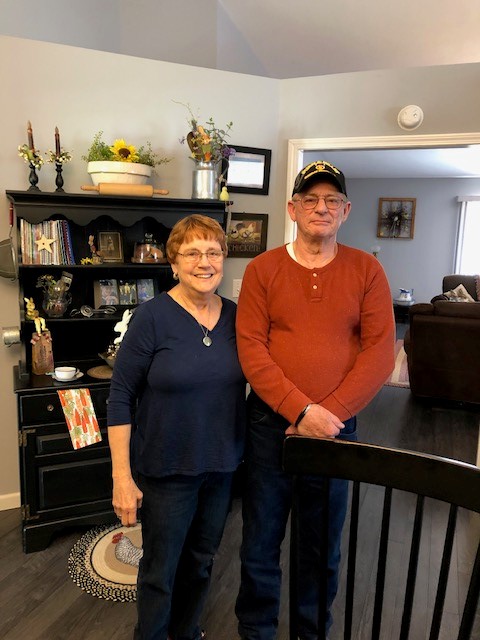 Pat and Tom Halberstadt: You Are My Sunshine
Every week, Pat Halberstadt drives two hours to the Illinois Veterans Home to see her husband Tom, and to bring him lunch. Due to COVID-19 restrictions, however, Pat can't physically give Tom his lunch. Instead, she drops off his meal with the healthcare workers of the home. Then, she visits Tom for twenty minutes through a window before taking another two-hour trip back to her home in Springfield, IL. Tom, a Vietnam Veteran who was exposed to Agent Orange, is living with vascular dementia.
Q: What do you love most about Tom?
Pat: Tom can be very proud, but he's the most tender and gentle person I've ever known. When I met Tom, he was painfully shy. During our first date, I didn't think I'd go out with him again because, I'm telling you, I couldn't even get him to say boo! (laughs). He's very quiet, reserved, and thoughtful. And here I am, kind of loud and sort of hyper. We're total opposites. I think God knew I needed someone to calm me down and I think God knew Tom needed someone like me as well.
Q: How would you describe your life together?
Pat: Oh, it's been amazing. He was and still is my best friend. We used to do everything together. We laughed - we found pleasure in the little things. Even after the onset of his dementia, he'd do little things to make me laugh. If I knew then [when marrying Tom] what I know now, I'd do it all again in a New York minute.
Q: How did you spend time together pre-pandemic?
Pat: Because of his dementia, Tom can't talk anymore, but for some reason, he can sing. I started teaching him some Sunday school songs, and the song You Are My Sunshine. We'd go for long walks, hold hands, and sing. I still sing You Are My Sunshine to him when I visit him.
Q: Tom now lives at the Illinois Veterans Home?
Pat: Yes. He lived with me until 2019 when I suffered a stroke. I'm okay now but it was a wake-up call. I needed some help. The transition was so hard, but I want the best for Tom and if something happens to me, I want him to be safe.
Before the pandemic, I would go see him more often but now I'm only able to see him about once a week. While I'm home I write him cards and decorate them with stickers. I just don't want him to feel lonely
Q: And you bring him lunch when you go visit?
Pat: I make three stops for his meal (laughs). I go to LongHorn Steakhouse for a petit steak, I go to Olive Garden for his salad, and I stop by MCL Bakery for a slice of coconut cream pie. He loves coconut cream pie!
At first, I got worried that he'd tire of steak. But the healthcare workers said they'd never seen someone eat a steak like Tom! (laughs) So, I'll keep bringing him that until he doesn't want it anymore.
Q: How has the Peer Support Mentoring Program helped you as Tom's caregiver?
Pat: Being a caregiver is the hardest job you'll ever have because it hurts to watch someone you love to go through this. I was a mentee for years and it helped to have someone to talk to. Now, I'm a mentor to three mentees and it gives me a sense of purpose. I'm able to help others who are struggling with this. I've found that helping someone else heal can also bring healing to yourself.
Q: Do you have any advice for other caregivers?
Pat: Get yourself a notebook and journal. Write down as much as you can – your thoughts, your feelings, even the information you get from the doctors. When life gets hectic it can be hard to remember everything. I write in my notebook every day. I've written so much I feel like I could write a book (laughter).
Q: If you wrote a book, what would the title be?
Pat: That's easy. You are My Sunshine.
About the Caregiver Peer Mentoring Program
The Peer Support Mentoring Program provides an opportunity for caregivers to receive guidance and to share their experiences, wisdom, skills, and passion with other caregivers. The program is offered under VA's Caregiver Support Program, Program of General Caregiver Support Services (PGCSS). PGCSS is available to all caregivers of Veterans enrolled in VA healthcare. There are no eligibility requirements for PGCSS and no formal application. To learn more about the Peer Support Mentoring Program click here: https://www.caregiver.va.gov/support/Peer_Support_Mentoring_Program.asp
---
Need Help?

Caregiver Support Coordinator
Your local Caregiver Support Coordinator is a licensed professional who can support you by matching you with services for which you are eligible, and providing you with valuable information about resources that can help you stay smart, strong and organized as you care for the Veteran you love. Find your local Caregiver Support Coordinator
Caregiver Support Line
With VA's Caregiver Support Line – 1-855-260-3274 – assistance is just a quick phone call away. If you're just getting started with VA, calling the Caregiver Support Line is a great first step to take to learn more about the support that's available to you.

Caregiver Support Program (CSP) - Menu of Resources
return to top