Attention A T users. To access the menus on this page please perform the following steps. 1. Please switch auto forms mode to off. 2. Hit enter to expand a main menu option (Health, Benefits, etc). 3. To enter and activate the submenu links, hit the down arrow. You will now be able to tab or arrow up or down through the submenu options to access/activate the submenu links.

VA Caregiver Support Program
Disaster/Emergency Preparedness
Disaster & Emergency Preparedness for Caregivers
Being a caregiver goes beyond helping someone you care about live the healthiest life possible. It also means being prepared and capable of supporting both yourself and your loved one during times of disaster. By understanding the responsibilities of caregiving in such challenging situations, you can ensure the survival and well-being of both yourself and the Veteran you care for. Emergencies don't have to become disasters, and disasters can be managed. Preparedness matters!
Information about preparing for emergencies:
Disaster & Emergency Preparedness


Being a caregiver goes beyond helping someone you care about live the healthiest life possible. It also means being prepared and capable of supporting both yourself and your loved one during times of disaster. By understanding the responsibilities of caregiving in such challenging situations, you can ensure the survival and well-being of both yourself and the Veteran you care for. Recognizing this need, the Department of Veterans Affairs (VA) Caregiver Support Program (CSP) and The Rosalynn Carter Institute for Caregivers (RCI) have collaborated to develop a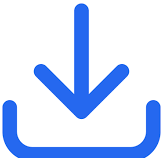 Toolkit for Caregivers of Veterans for Disaster Preparedness.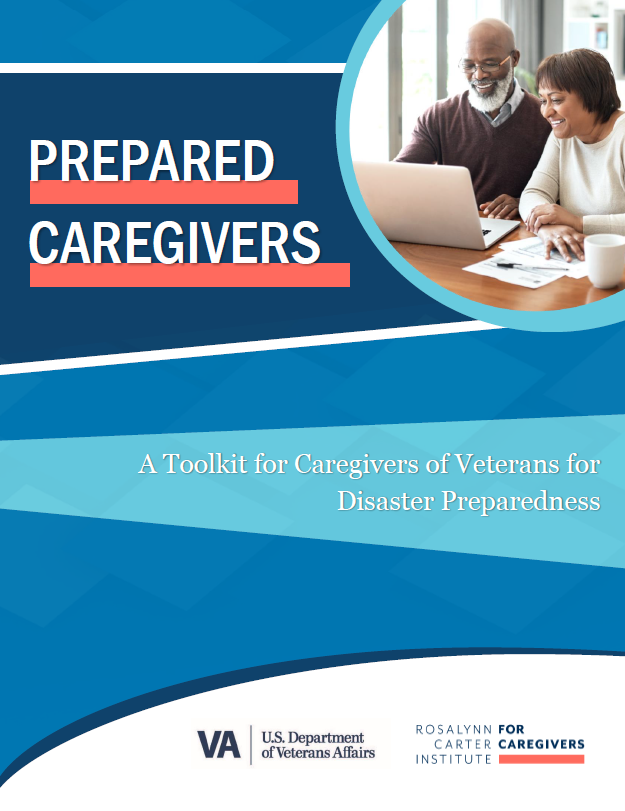 This tookit is designed especially for caregivers of Veterans to increase confidence in your role as a caregiver by:
- Being more prepared for disasters
- Understanding how to handle the mental and physical health of both you and your Veteran during disasters, and
- Connecting with important resources to help in your recovery from disasters.
In this toolkit, you will find sections allowing you to personalize disaster planning to your specific needs. Please read and develop your preparedness strategy today!
How to Prepare for an Emergency
Certainly, we know we can't control Mother Nature. Still, depending on geographical areas, we can prepare by identifying types of natural disasters that are specific to where we are. Are you most at risk for a blizzard or ice storm where you may become trapped in your home for days? Perhaps you live in an area where wildfires or hurricanes are common, and you are at high risk of evacuation from your home. Maybe you live near a power plant, are at risk of gas leaks, or near a river with a history of flooding.
The American Red Cross offers valuable information on the various types of natural and man-made disasters, including specific factors to consider and prepare for. You may wish to visit the link at: https://www.redcross.org/get-help/how-to-prepare-for-emergencies/make-a-plan.html *
While it is impossible to plan for every contingency, there are some basic things you can do. Planning for what you CAN control, allows you to better manage crises when they occur.
Prepare an Emergency Supply Kit
Do you have a week's worth of medication, enough food and water in the event of an extended power outage, and a flashlight with extra batteries? If you are caring for someone who requires oxygen, what is the plan to ensure a continued supply? These are just a few of the questions to consider when preparing for emergencies or disasters.
Consider supplying your kit with the following:
- Non perishable food items, including a can opener for canned goods
- Water- plan on 1 gallon of water, per person, per day. If you have pets, ensure you are planning on them as well!
- Basic first aid kit
- Cell phone with charger and extra battery
- Flashlights with batteries
- Candles & Matches
- Battery operated radio
- Emergency contact names and numbers in waterproof sheath
- Cash and coins
- Sanitation-related items, alcohol-based hand sanitizer, basic personal hygiene (i.e., toothbrush, toothpaste, denture needs, soap, shampoo, feminine products and wipes)
- Change of clothing (consider needs for weather, including shoes/sneakers/boots)
- Medications, eyeglasses, hearing aids, etc. (Keep them easily located in the event of an evacuation!)
Include important documents and information stored in a waterproof pack:
- Copy of your birth certificate
- List of your medical conditions
- Medication list
- List of current physicians
- Allergies
- Immunization records
- Bank account information
- Names and phone numbers of emergency contacts
- Legal paperwork such as Power of Attorney or Advance Directives
- Copies of insurance card(s) or numbers
- Personal identification
- Copy of any Advanced Directives, including Health Care Proxy or Living Will documents
Consider using checklists to help you organize this information, including medication lists and emergency contacts. The following links give examples of pre- made checklists:
- https://www.ready.marines.mil/Build-a-Kit/Basic-Emergency-Kit/ *
- Ready.Gov Build a Kit: https://www.ready.gov/kit*
- Ready.Gov Supply Check List: https://www.ready.gov/sites/default/files/2021-02/ready_checklist.pdf#*

Whether you create your own, or use those already developed, enjoy peace of mind that you are prepared!

Don't forget to take care of your own needs!
While it will be crucial to ensure the needs of your Veteran are met during times of emergencies, it is equally important to attend to your own needs. As you prepare your Veteran for the unexpected, prepare for yourself. When gathering important documents for your Veteran, also make sure to gather your own documents. Create your own medication list, and your own list of emergency contacts. Your needs are critical too!
Caregiving for Veterans during a Pandemic or Public Health Crisis
To best provide care for Veterans during a pandemic or public health crisis, VA recommends that you preplan, take precautions and consider your whole health. Here are a few essential things to help you care for your loved one and yourself:
Think Ahead
Stock medication and supplies.
Learn to use virtual options or telehealth to meet with providers.
Your health and well-being are also important. Contact your health care provider for medication refills and learn more about what telehealth services may be available to you.
Have two weeks' worth of non-perishable food at home, so you are prepared to stay home for a while. It is crucial to minimize trips to the grocery store.
Create Backup Plans
Contact family and friends who can assist with grocery shopping, pharmacy pick-ups or other essentials.
Arrange a backup plan for who can provide care to your Veteran should you fall ill.
Keep records and important information about your Veteran's care, including an Advanced Care Plan, in a safe and accessible place, should another person be needed to provide care. Make sure you share the location or a copy of the plan with appropriate family or friends.
Protect Yourself
If you are sick, stay home and away from others.
Cover your coughs and sneezes with your arm/sleeve, or use tissues and dispose of tissues in the trash.
Keep your hands clean by washing with soap and water for at least 20 seconds or using a hand sanitizer with at least 60% alcohol.
Avoid touching your eyes, nose and mouth.
Avoid people who are sick.
Avoid places where many people closely gather.
Clean surfaces and objects often.
Don't travel to areas known to be heavily impacted by health-related outbreaks.
Get flu, pneumonia, COVID and other vaccinations regularly or as prescribed.
Monitor Health Indicators
Monitor yourself and all household members for symptoms (fever, cough, sore throat, etc.). Contact the appropriate health care team for guidance and medical advice.
If your loved one has a chronic condition, their immune system is likely already stressed. Follow the health care plan to prevent worsening conditions and potentially further taxing your loved one's health.
If you have help from outside the home, ensure they observe all the precautions you take (i.e., hand washing and hand sanitizing) and self-care procedures. Request that they monitor themselves for any symptoms of COVID-19 or other illnesses.
Stay Connected and Receive Support during a Public Health Crisis or Pandemic
It is essential to stay connected to each other, especially if you or your family have to isolate yourself. While staying home, you may discover new ways to connect. Here are a few ideas:
Enjoy some music
Have a movie night or look through old photo albums.
Make a family recipe.
Do a puzzle or play a game together.
Arrange regular contact with family and friends via phone or video chat.
Write a letter or send a card to a loved one.
Find out if your religious/spiritual community is streaming services online.
Practice good self-care and remember to refuel. The following strategies may help parents and families cope and strengthen resilience:
Get fresh air daily (open the windows and turn on a fan).
Drink plenty of water and eat good nutritious foods.
Find ways to move your body as you are able.
Create a routine, including sleeping and waking up at a reasonable time.
Give each other emotional space and take breaks.
Reach out for professional support, often available via phone or virtually.
Use reputable sources to limit your time watching crisis-related news stories.
Prioritize self-care. General wellness can include emotional and physical health, which can help relationships thrive.
Exercise and go outside whenever possible. There are benefits to exercising and participating in outdoor activities, such as reducing stress.
Seek support from other caregivers and parents. Share thoughts, experiences and feelings with family, friends, neighbors and colleagues.
Caring for Children during a Pandemic or Public Health Crisis
Throughout a public health crisis, those who care for children may experience challenges in keeping up with the ongoing changes in their children's schooling while juggling work, caregiving and other daily obligations. Having a school-age child during a pandemic presents parents with unique pressures, such as:
Finding last-minute childcare
Ensuring their children are engaged in virtual learning
Maintaining their family's safety
Meeting other responsibilities and so forth
Additional Tips for Caregivers Who are Parents
Develop a daily routine for the household. A predictable schedule provides a sense of security for parents and children and can help with anxiety. Regular bedtimes, meals, naps and playtime will give some structure in uncertain times.
Maintain a fair division of labor. Ensure that all household members, including the children, contribute to chores. Share childcare responsibilities if there is another parent or able adult in the home.
Set realistic expectations. These may differ from previous standards and rules. For example, it is okay if the house is not up to the usual standards or if children spend extra time on their screens (i.e., tablets, computers, smartphones, television). Parents who do not adjust their expectations are more likely to experience disappointment and frustration.
Resources
Emergencies are stressful, but knowledge and awareness of resources are critical. The following resources provide additional information on developing disaster or emergency plans and suggested preparations.
Need Help?

Call VA's Caregiver Support Line (CSL) at 1-855-260-3274 to learn more about the support that is available to you, and for assistance connecting with the Caregiver Support Team/Coordinator, at your local VA Medical Center.

VA CSL Expanded hours:
-Monday-Friday 8:00 a.m. to 10:00 p.m. ET
-Saturday 8:00 a.m. to 5:00 p.m. ET



Subscribe to receive email updates and information about VA Caregiver Support Program services.

*By clicking on these links, you will leave the Department of Veterans Affairs Web site.
return to top