Attention A T users. To access the menus on this page please perform the following steps. 1. Please switch auto forms mode to off. 2. Hit enter to expand a main menu option (Health, Benefits, etc). 3. To enter and activate the submenu links, hit the down arrow. You will now be able to tab or arrow up or down through the submenu options to access/activate the submenu links.

Caregiver Support Line Monthly Presentations
Help is just a phone call away with VA's Caregiver Support Line—1-855-260-3274. Caring licensed professionals staffing the support line can connect you with VA services, a Caregiver Support Coordinator at your nearest VA medical center, or just listen if that's what you need right now.
As a Caregiver, the very best thing you can do for those who depend on you is to take care of yourself. VA's Caregiver Support Line offers monthly telephone education groups for Caregivers. During these calls, Caregivers will receive self-care tips and support on a variety of topics. Participants will also have the opportunity to comment and ask questions at the end of each call.
In order to participate, you must be a Caregiver of a Veteran(s) of any era who is receiving VA care. Veterans engaged in VA care who are caring for a loved one are also eligible. Registration is required. Interested Caregivers should contact their local Caregiver Support Coordinator to learn more and begin the registration process.
Featured Presentations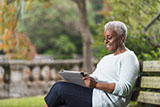 All Caregivers are invited to listen to an audio recording of the following presentations.
Handouts on additional self-care topics are also available.
Relaxation Exercises
Taking time out to focus on self-care is not easy, but it is so important. Just a few minutes a day to participate in a relaxation activity can help caregivers feel restored and rejuvenated. We invite you to take just a few minutes out of your busy schedules to focus on relaxing your mind and your body. Select a link below, then sit back, relax, and let a Caregiver Support Line social worker guide you through a brief activity to help restore your balance. .
Body Scan Meditation: Awareness and Healing of the Physical Body
Mindfulness Meditation: Finding Calm and Acceptance in the Present Moment
Relationship Meditation: Restoring Loving-Kindness to Yourself and Your Significant Other
Visualization Meditation: A Soothing Journey Created by the Gift of Imagination
We Serve All Who Serve: Recognizing Lesbian, Gay, Bisexual, Transgender Veterans and their Caregivers
This presentation focuses attention on the unique experience and challenges of Lesbian, Gay, Bisexual, and Transgender (LGBT) Veterans and their LGBT Caregivers. We will explore the history of discrimination on the LGBT community, including the resulting vulnerabilities, and the resilient strengths and resiliencies that many LGBT individuals have developed. Finally, we will identify strategies to assure that LGBT Veterans and their Caregivers are equipped with knowledge of their current rights, and provide tools to negotiate future challenges.
Quiet on the Homefront: Restoring Connections at Home
Caregivers are often front and center when managing the competing needs and demands on the Homefront. Whether negotiating the care needs of a recently returning Veteran, caring for children, an ill Veteran parent, or an aging Veteran spouse, managing the multiple and often conflicting needs of oneself and loved ones can be difficult. The home can become a safe haven or hostile ground depending on the pressures and demands at home and your ability to negotiate and work together as competing needs arise. This presentation will explore some potential strategies for Caregivers to meet their own needs and bring some healing and connection back to the Homefront.
Choosing Your Words: Harnessing the Power of Communication
Caregivers challenged with the stresses and demands of the caregiving role find it essential to acquire the skills needed to advocate for themselves and their loved ones. This group focuses attention on expanding participants' awareness of their needs and provides ideas and tools to support the communication of these needs. This group is aimed at helping caregivers give voice to their needs and concerns, and the skills to advocate with effective and clear communication.
Leaning Into Love: Building Strong Relationship Bonds
With all the challenges love relationships face, particularly if caring for someone with medical and mental health concerns, along with managing time demands, financial and work stresses, caring for children, caring for a home, and trying to take care of you, how do caregivers keep investing in his/her partner? This group helps participants identify the struggles of a loving relationship; the conflicts and burdens that are felt, and guides participants in exploring some practical tools to better negotiate conflict and restore a loving connection.
Setting Boundaries: Defining What is Best for You, the Caregiver
This presentation is focused on exploring the topic of boundaries and the importance of maintaining boundaries as a caregiver. Examples of personal boundaries are provided with discussion of how caring for others may contribute to neglecting the physical and emotional boundaries that support caregivers in caring for themselves. The benefits of establishing and maintaining healthy boundaries through clear communication and awareness of one's needs are reviewed as well as strategies to help caregivers establish the boundaries they need to maintain health and wellness.
Presentation Spotlight
Understanding Domestic Violence/Intimate Partner Violence for Caregivers
Presented by Jennifer Broomfield, LISW, JD, this session will help Veterans' Caregivers understand and define "domestic violence" and "intimate partner violence," as well as how to access resources for themselves or family and friends affected.
Please note: caregivers accessing MyVeU for the first time will need to register.
return to top