Attention A T users. To access the menus on this page please perform the following steps. 1. Please switch auto forms mode to off. 2. Hit enter to expand a main menu option (Health, Benefits, etc). 3. To enter and activate the submenu links, hit the down arrow. You will now be able to tab or arrow up or down through the submenu options to access/activate the submenu links.

RyAnne's Story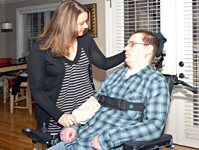 When RyAnne married Army Ranger Scot Noss in 2003, she knew it would be difficult to have him leave on deployments to Iraq and Afghanistan. To make the deployments easier, RyAnne surrounded herself with positive people who provided great support.
On February 17, 2007, during his eighth deployment, Scot was injured in a Chinook helicopter crash in southeast Afghanistan. He sustained a severe traumatic brain injury (TBI) and was transported to a NATO cache unit where the surgeon performed a craniectomy – a surgical procedure in which part of the skull is removed to allow a swelling brain room to expand without being squeezed – which saved his life.
Three days after the accident, Scot was transported to Bethesda Naval Hospital. Scot's injuries were so extensive – in addition to a severe TBI, he had several fractured bones – that he was relying on many machines to keep him alive.
When RyAnne saw Scot for the first time after his injury, she fainted. The nurses told her that Scot's heart rate went up during the commotion when they were calling her name. Throughout those difficult days in the ICU, Scot's heart rate would increase only when RyAnne was in the room. Doctors recommended that life support be discontinued, saying that Scot would probably never breathe on his own.
RyAnne prayed about the decision, but Scot made it much easier – after three weeks he was weaned from the ventilator and was able to breathe on his own. "You could just see the fight in him," RyAnne said.
The Journey Home
After 12 weeks in Bethesda, Scot was transferred to the VA Polytrauma Rehabilitation Hospital in Tampa, Florida. There RyAnne bonded with other Caregivers of injured Servicemembers and developed lasting friendships.
At every step in the treatment and recovery process, RyAnne's goal remained the same – bring Scot home to Birmingham, Alabama. Even after RyAnne understood the reality of Scot's condition – that he may never regain full consciousness – she remained determined to bring him home.
Many professionals and volunteers came together to make RyAnne's goal a reality. Several key players started planning for Scot's return to Birmingham a year-and-a-half in advance of his arrival. At the Birmingham VA, Scot's future medical team met regularly to discuss his needs and traveled to Tampa to meet with his treatment team to ensure a seamless transition. "I was blessed to have case managers throughout the Defense and VA systems of care who are very good at their jobs," RyAnne said.
Homes for Our Troops, a non-profit organization that builds new homes or adapts existing homes to make them accessible for severely injured and disabled Veterans, built a fully accessible new home in a Birmingham suburb for Scot and RyAnne.
RyAnne worked with VA and Tricare to get the special equipment and assistive devices Scot would need at home. RyAnne also uses home health care services supported by VA to help with caring for Scot at home. Since traveling to medical appointments can be difficult given Scot's condition, the Nosses use VA's Home-Based Primary Care service to provide Scot with professional medical care in their home.
Scot moved into their new home in October 2010. RyAnne recalls having mixed emotions about the move. "I was breathing a sigh of relief, but I was also scared that I would do something wrong that would hurt Scot," she said.
RyAnne quickly felt her relief replaced by the stress of keeping Scot healthy. She felt she had been well-prepared by VA to take care of Scot physically, having taken many training courses about how to provide him with proper at-home care. But she soon realized she did not feel prepared for the emotional impact.
"Perhaps no one can prepare you for this," RyAnne said. "Our friends and family provided emotional support, but they have not walked in the same shoes."
Taking Care of Herself
Reflecting on her journey as a Caregiver, RyAnne notes that she tries to take care of herself and do what's right for her, so she can do what's right for Scot.
After Scot was transferred from Bethesda to the VA Polytrauma Rehabilitation Hospital in Tampa, Florida, RyAnne was challenged to discover the new normal of their life. She needed to find a way to be there to manage Scot's care and, at the same time, take care of herself. RyAnne decided that after taking a hiatus from the PhD program in chemical engineering she'd been enrolled in at Auburn University to be by Scot's side during his recovery, it was time to finish her degree.
"I spent two years with Scot and other wounded warriors fighting with all their might to get better, so I knew what it meant to persevere, and I knew I needed to finish my PhD," RyAnne said.
With the support of Scot's parents and her dad, RyAnne spent two months at Auburn completing her degree requirements and received a PhD in chemical engineering in 2009.
RyAnne also notes it can be difficult to find peers in similar situations, especially now that she is living away from the military and hospital settings where there were other young Family Caregivers. After getting Scot home to Birmingham, RyAnne recognized that she needed support to deal with the emotional challenges of keeping Scot healthy. She stays in touch with the Family Caregivers she met in Tampa, communicating with them on a daily basis.
RyAnne has also sought help from a Christian counselor to help her with the emotional challenges of redefining her role from young wife to young Caregiver.
"I needed help redefining life from what it was supposed to be to what it now means to be me," RyAnne said.
In addition, though it can be hard to find the time, RyAnne tries to exercise every day to stay healthy and help manage her stress.
RyAnne's Advice for Fellow Caregivers
Define the new normal for YOU – not what others want.
Don't be afraid to feel the emotions you are feeling. It is important to acknowledge them so you can get through them.
Never say never – you never know what tomorrow will bring.
Don't be afraid to ask for help.
Get into the teamwork mentality. Form a respectful relationship with care managers and members of the Veteran's health care team. Remember, you're a part of this team, too.
Understand the difference between a want and a need, and focus all your energy on advocating for what the Veteran needs.
There are wonderful people out there – find them and make them part of your life.
Don't be afraid to make mistakes – there will be people to help you.
Concentrate on yourself – focus outside of your Caregiver role. If you are not happy, the home will not be happy.

return to top